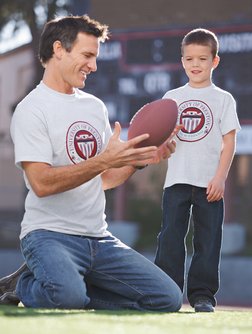 Screen printing is the process of using mesh screens to create a stencil image. Blades then squeeze ink through the openings creating sharp colored or black images. Multiple screens can be utilized for multicolored designs. The design possibilities are endless and any logo or image can be screen printed. Perfect for your sports team or group t-shirts as well as fundraising events.
Take a look at our supplier catalogs for apparel ideas or check out our Gallery
*Quantity discounts available
www.companycasuals.com/creativeedgemonograms
www.sportswearcollection.com/creativeedgemonograms
www.imprintablefashion.com/creativeedgemonograms
It is rare in today's hectic world to find a company that is interested in providing "Over the Top" customer service, but I'm proud to say I've found that in Creative Edge. I tell everyone about Creative Edge and look forward to doing many more transactions with the company. –Tony B.